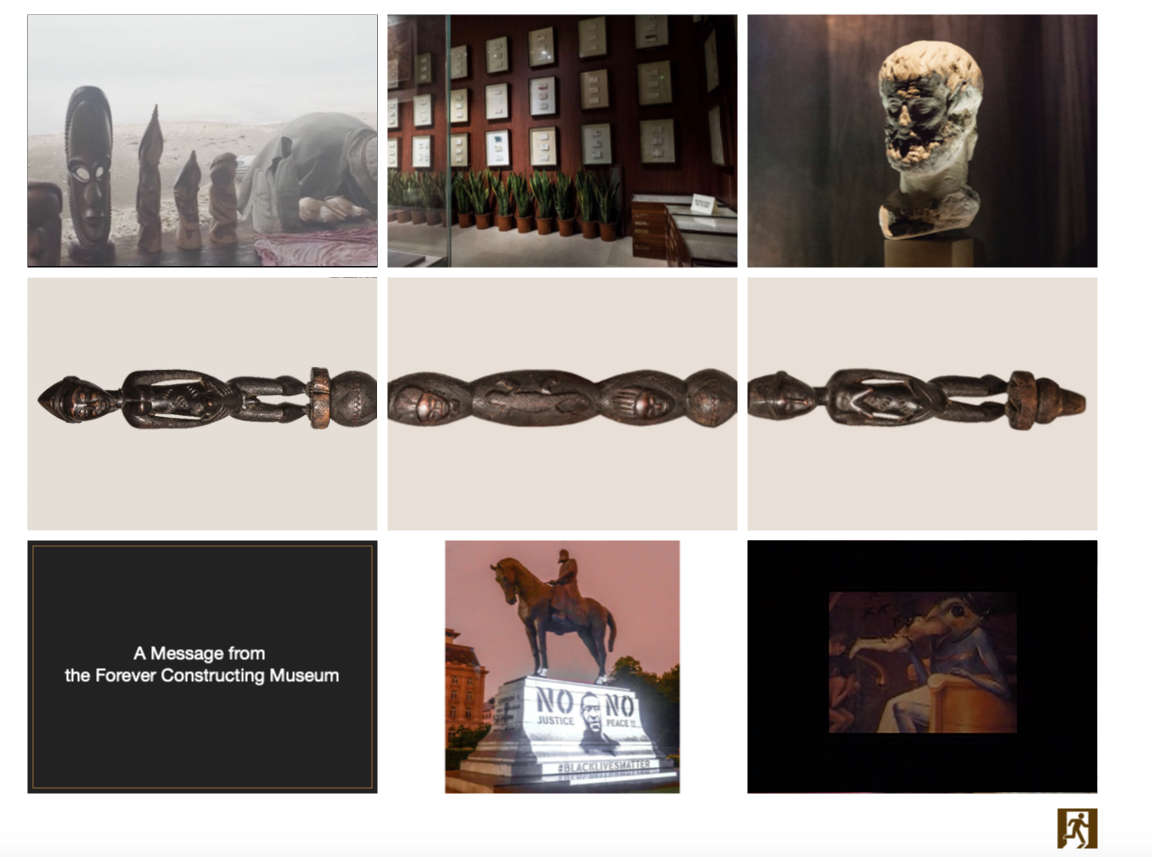 Welcome to The Museum of Mental Furniture!
The museum arose from a secretive experience shared by filmmakers An van. Dienderen and Rosine Mbakam, and theater maker Thomas Bellinck. Together, we looked at a series of approximately 100 pictures. The photographs were taken by a colleague in one of Europe's foremost museums that houses looted objects from formerly colonised territories. The pictures are but the tip of the iceberg consisting of more than 6,000 images, which the photographer is not permitted to make public. The small fraction made available to us took us on a journey through basements, hallways, and depositories where the shamefully buried remains of a violent past patiently await their return to the surface. Our sneak peek into this underworld triggered discussions about our childhoods in Cameroon and Belgium, what we were taught as children and what we would like to teach ourselves, our pursuit as artists, and our ongoing struggle to decolonise our own minds. The Museum of Mental Furniture was born from our desire to come to terms with the mental categories instilled in us—the frames and moulds that shape how we think about each other and ourselves. Rather than hide this mental furniture that we inherited, borrowed, or adopted in some basement, we wanted to create a shared depository where it can be stored in plain sight.  The museum you are about to enter imposes no linear route but offers multiple trajectories. Feel free to browse at your own speed and come back from time to time. As we keep reshuffling our mental furniture, the museum collection will also expand, shrink, and change. In case you would like to donate a personal piece of mental furniture to the museum, please send an e-mail tot tri.carteblanche2021@gmail.com before September 30th, 2021. We will do our utmost to take care of these objects.
With unseen images of the magnificent film by Rosine Mbakam 'Two faces of a Bamileke woman', with a sneak preview of 'Kastom', the film that An van. Dienderen is currently working on with Hugo DeBlock and Christina Stuhlberger produced by Escautville, with inspirational, speculative texts by Rosine and Thomas, with a brilliant article by Hugo DeBlock on propatriation and with an honorary attribution to my parents Hugo Van Dienderen and Jeannine Weyers. A tremendous thank you to Itsushi Kawase, Rossella Ragazzi, Yushi Yanohara and Michi Watanabe to have made this possible.
Welcome, welcome to the Museum of Mental Furniture!
You can visit the museum here!